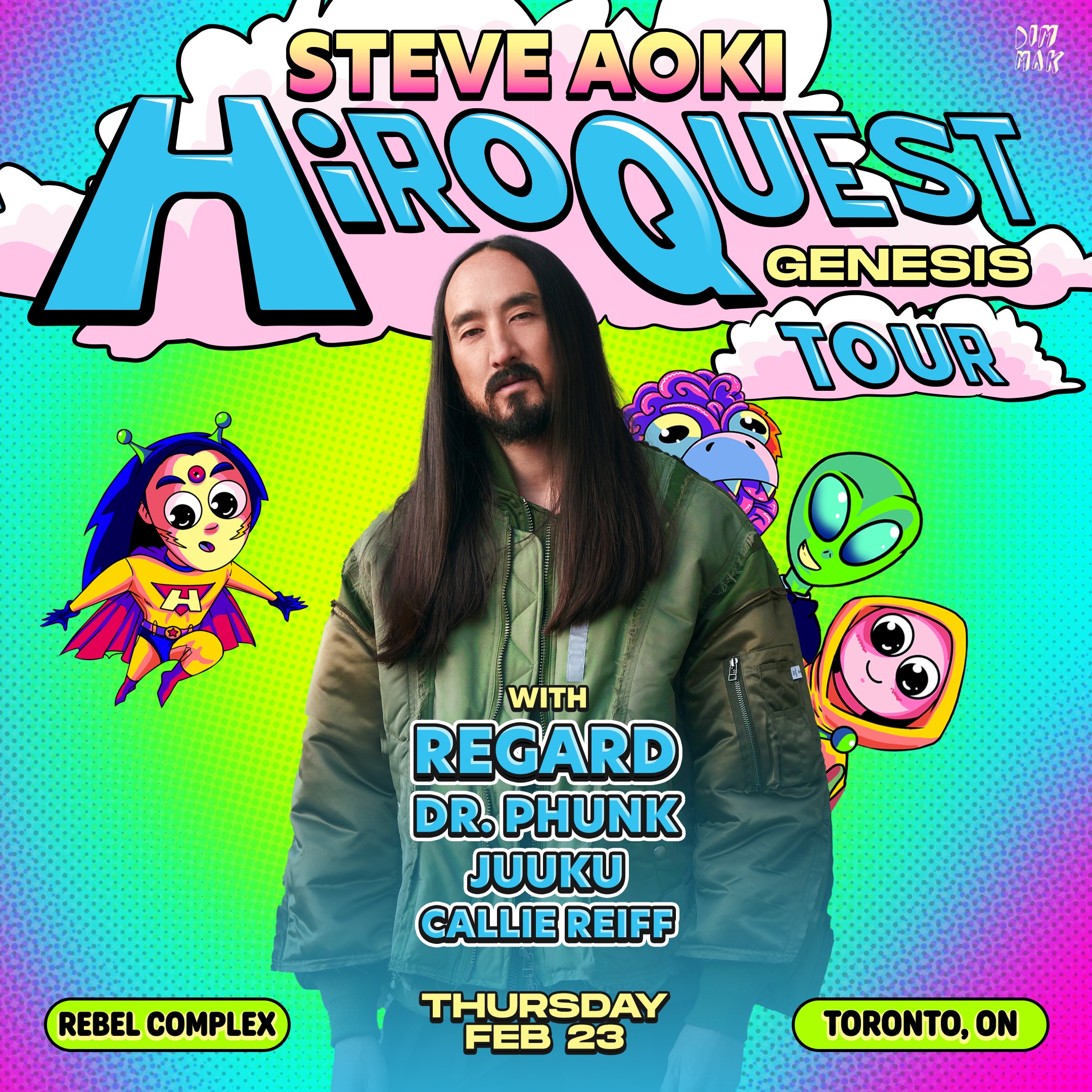 STEVE AOKI - HIROQUEST GENESIS TOUR
Counting nearly 3 billion music streams to his name, Steve Aoki is a true visionary. Billboard described the 2x-GRAMMY-nominated music producer, artist, fashion designer, entrepreneur, NFT futurist and Dim Mak Records founder as "one of the most in-demand entertainers in the world."  A Guinness World Record holder for the "Most Traveled Musician in a Single Calendar Year," Aoki has performed at nearly every top festival around the world.
STEVE AOKI – HIROQUEST GENESIS TOUR
SUPPORT : 
REGARD – DR. PHUNK – JUUKU – GALLIE REIFF
REBEL – Toronto
February 23, 2023
Doors: 9:00pm
This is a LEGAL AGE 19+ event. Valid photo ID required.
$1 per ticket goes towards The Aoki Foundation, which raises awareness and support for scientific and cutting edge discoveries that are focused on quality of living and life extension…ensuring our minds become first of thought in the quest to live healthier, more enriched futures. Extending life means more years; but more importantly, it envelops preserving quality of life; memory, health and vitality!

We transport you to an extraordinary, multi-dimensional universe that evolves throughout the night. 45,000 square feet of striking design and unexpected wonder combine with powerful sound, immersive light, sensual forms and tactile details to delight and astound at every turn. With breathtaking views of the city skyline, waterfront and the dramatic 65-foot stage, wherever you are is right where you want to be.